folk methods. locally sourced.
Our products are slowly made by hand. We grow or ethically wildcraft much of what we use ourselves and what we buy is often sourced locally and always grown without chemicals.
Our body oils are infused in organic, cold-pressed oil from midwest sunflowers and the honey and beeswax are from a local family-owned farm.
In an effort to give Mama Earth a little relief we use essential oils very sparingly and purposefully in just four of our offerings. We package our products in reusable glass and orders go out wrapped with recyclable or repurposed materials.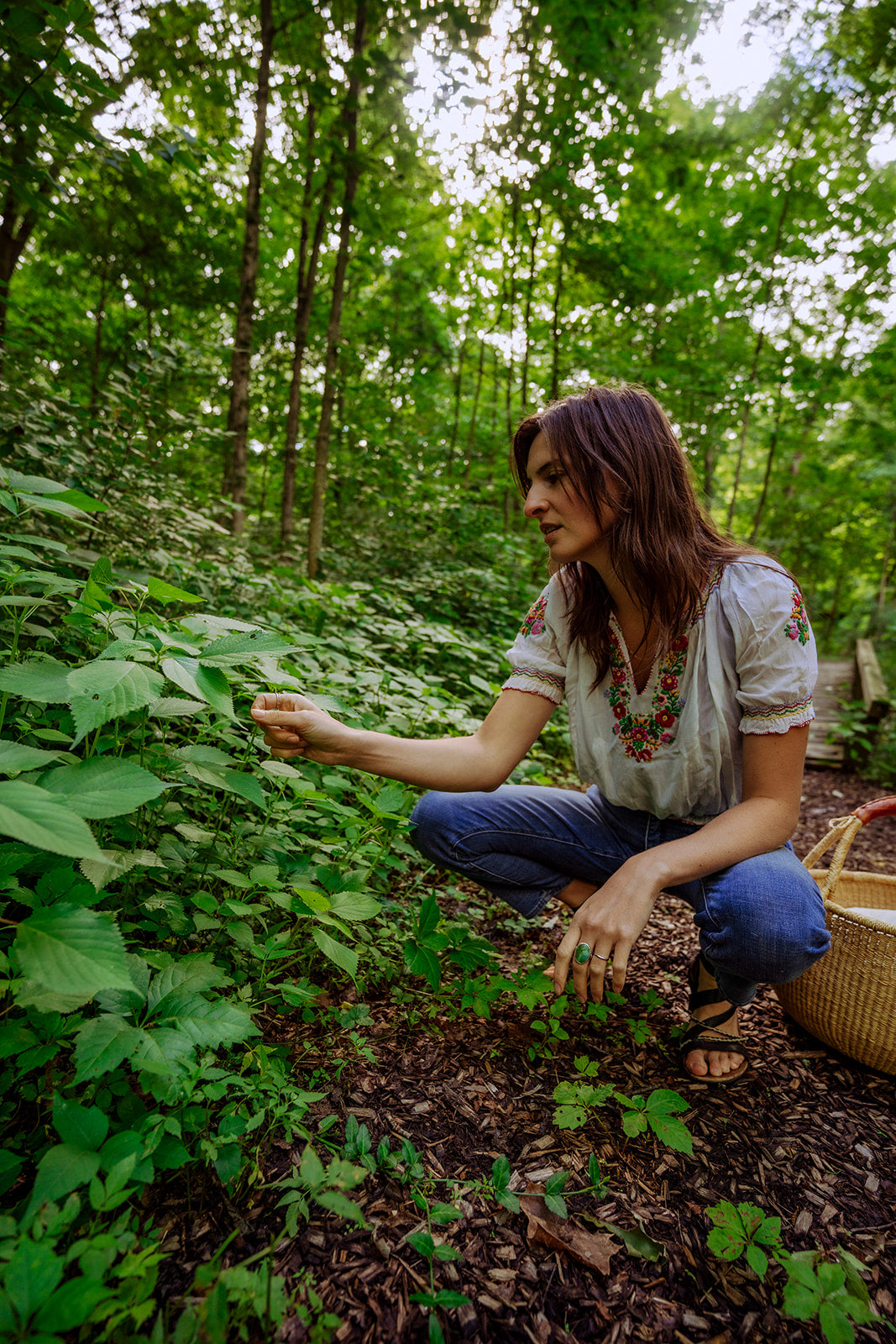 about Wild Origins
Anikó is a community-based folk herbalist. Her work is rooted in the earth-based practices of our ancestors and is inspired by old stories of the village herbalists like her great aunt Izus in Hungary. She's been working with the plants since 2012 and through Wild Origins she teaches herbal folkways and offers herbal body care products as a way to excite others' curiosity about herbalism and the natural world.
She spent three of the last 11 years closely studying under talented herbalists, most recently jim mcdonald. Her approach and understanding is also informed by learning from many other brilliant herbalists in person-- 7Song, Rosemary Gladster, Margi Flint, Althea Northage-Orr, Erika Galentin, Kat Maier, Guido Masé, Dawn Combs, and Paul Strauss, among others. The learning that lights her up the most is the work-with-the-plants, get-messy-in-the-apothecary, and devour-hundreds-of-books kind.
Lately she's been distilling hydrosols, exploring the medicinals around Lake Erie and the Appalachian foothills, studying herbal energetics, researching Hungarian folk medicine, dyeing with botanicals, and learning how plants can help us integrate grief and trauma. She draws from all she's currently curious about to formulate new products and seed her ever-expanding Patreon.
from the blog
Which face oil is right for you?

If you're struggling to choose between face oils use this guide to help you decide which ones will best suit your needs.

Read the Blog Post

What does "whole plant" mean to us?

Our body and face oils are slowly infused with the resins, flowers, seed pods, leaves, or roots of plants.

Read the Blog Post

The benefits of body oiling

The simplicity of a daily body oiling practice belies its potential for initiating enormous shifts within us.

Read the Blog Post
educational content on herbal folkways, medicine making, and plants
monthly videos, essays, projects, and snail mail
Wild Origins Patreon
customer favorites
Regular price

Sale price

$32.00 USD

Unit price

per

Regular price

Sale price

$16.00 USD

Unit price

per

Regular price

Sale price

$18.00 USD

Unit price

per