Body Oil Set
Regular price
Sale price
$52.00 USD
Unit price
per
Sale
Sold out
The Body Oil Set includes three lush body oils. 
Juniper + White Pine. For over three thousand years we have been using aromatic juniper to soothe and warm. References to its many charms and uses abound in medieval, Ancient Roman, and Ancient Near Eastern texts.  Pine is a balm for people who chronically feel chilly, achy, or emotionally aflutter. If it's used in the morning, its ability to warm and stimulate can have an enlivening effect on the body. read more
Goldenrod + Yarrow.  Even though yarrow is a simple wild weed found easily in fields and along roadsides it was long placed on temple altars, revered for its incredible effects in and on the body. Part of its folkloric history includes use as protection from the evil eye, from roaming spirits and ill-wishers. Warming and soothing Goldenrod is another weedy plant that grows with abundance.  read more
Rose and Mugwort together create a dreamy oil to relieve emotional and physical tension. For some, mugwort helps achieve a dreamy state and dispels repetitive thoughts. For others, it brings surprisingly vivid dreams. Mugwort has long been used as a soother. Rose is cooling, anti-inflammatory, uplifting, and gladdening. it can help us release anxiety and is a tool in working through grief and depression. read more
Ingredients

g+y oil - organic, cold pressed sunflower oil grown in the midwest, goldenrod, yarrow.

r+m oil - organic, cold pressed sunflower oil grown in the midwest, rose, mugwort

j+wp oil - organic, cold pressed sunflower oil grown in the midwest, juniper, white pine

These body oils are made with whole plants, not just their essential oils. This results in a much milder smelling oil with a wider range of benefits.

The plants are either certified organic, ethically wildcrafted by me, or homegrown with love and without chemicals.
Shipping & Returns

returns cannot be accepted due to the small size of my operation and the nature of my products. Read the ingredients and test the product on a small patch of skin first. That said, if you are unhappy, let me know and I will try my best to help.
Product Size

three 2 oz / 59 ml glass bottles

with dropper tops
Care Instructions

keep bottle away from direct sunlight and heat
Share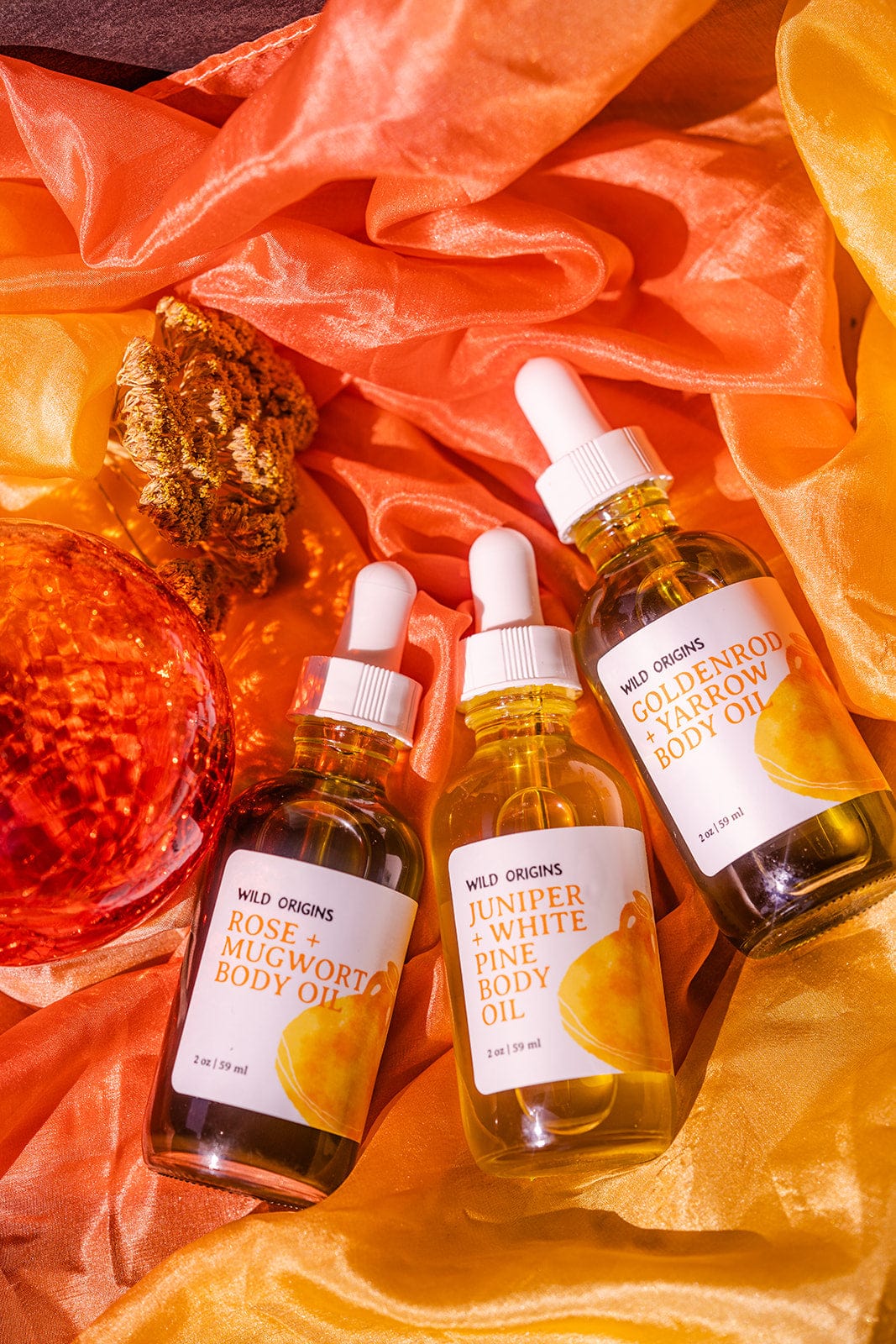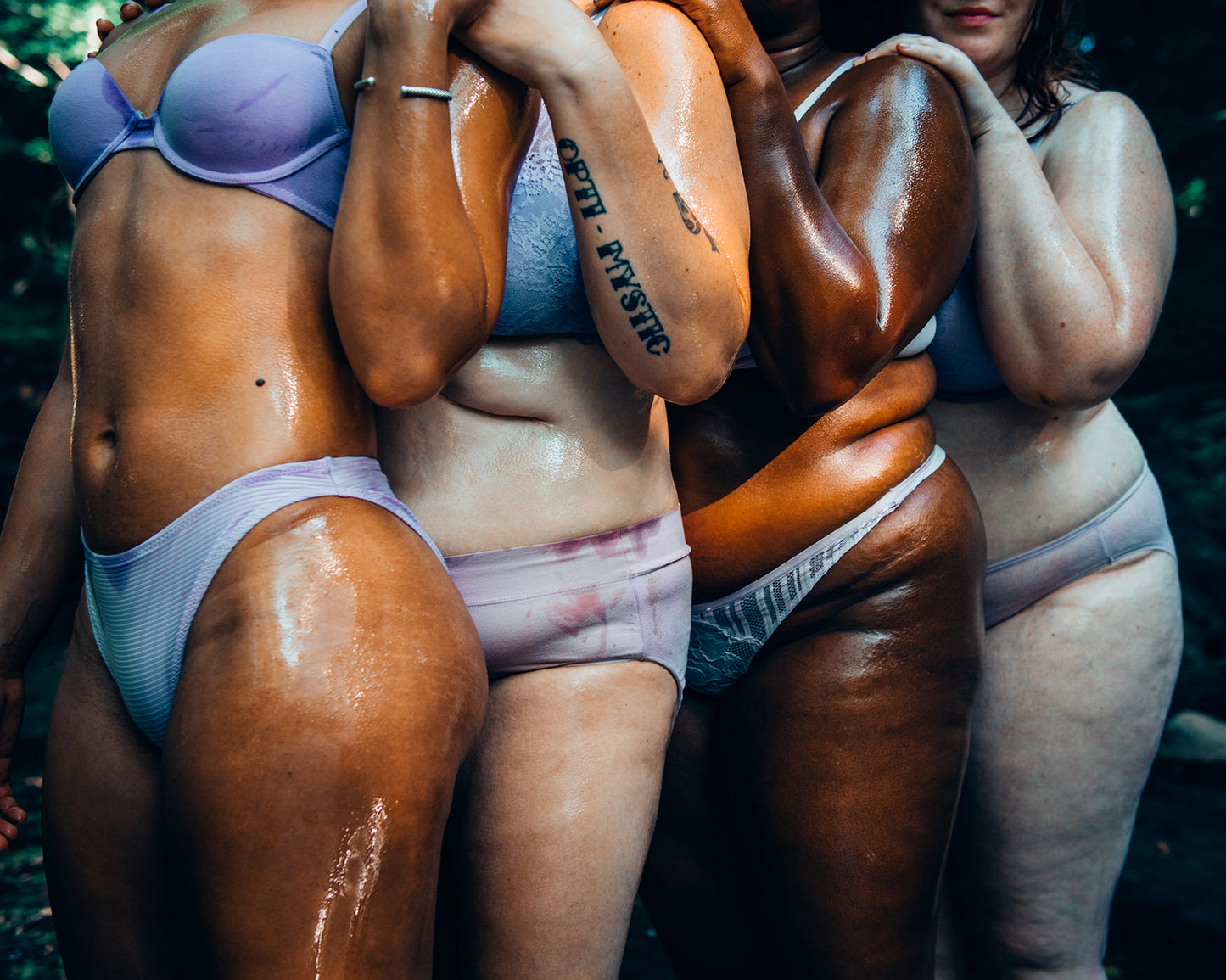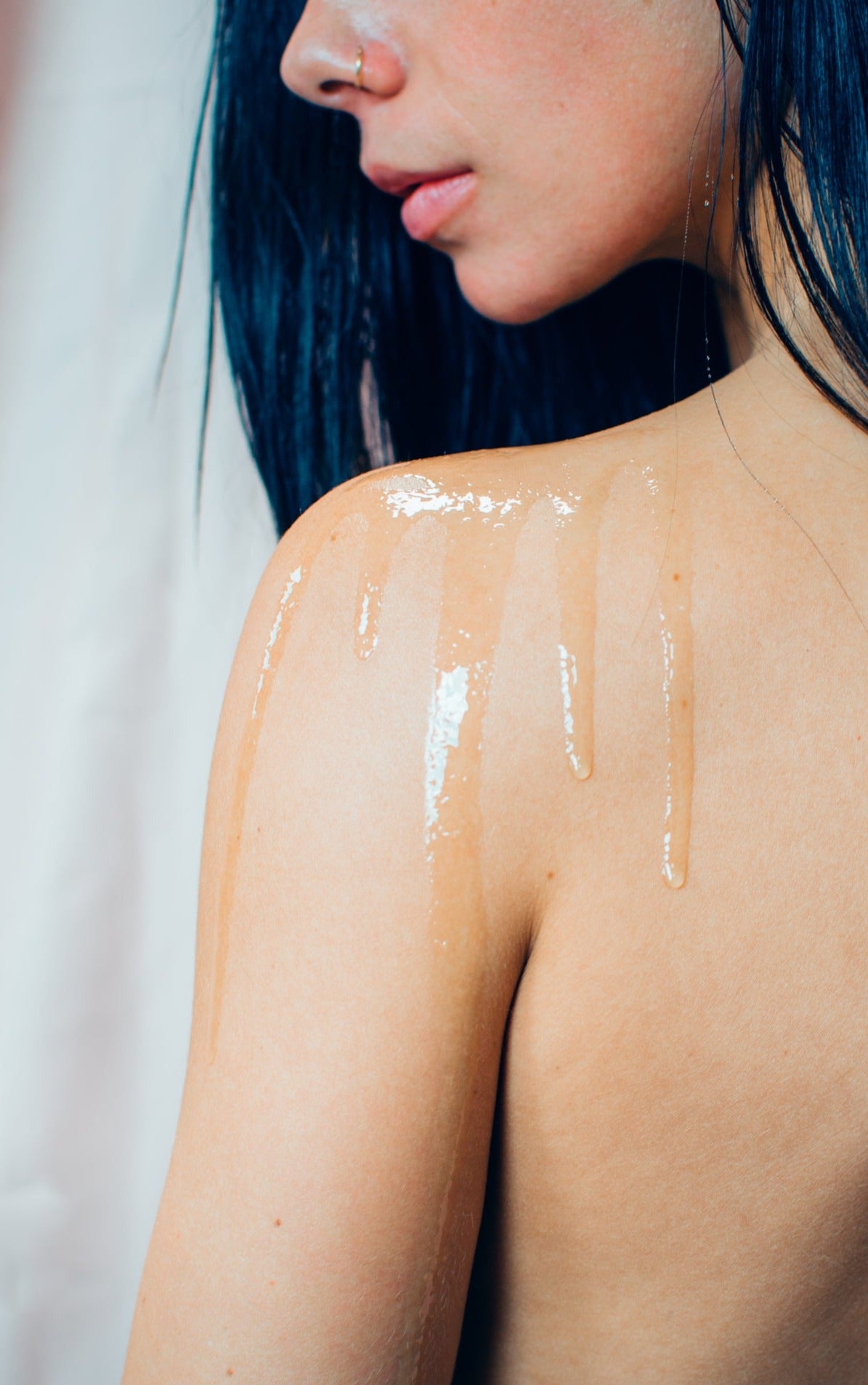 Benefits of body oiling
The simplicity of a daily body oiling practice belies its potential for initiating enormous shifts within us.
Potency Guaranteed

This oil was made with a process Anikó perfected over five years of experimentation. Far more of the plants' constituents have been extracted for an oil that's more aromatic and potent than a typical infused oil. In short, it's more lush and more effective.

When should I use a body oil?

Anytime. We especially love how it feels to massage our bodies with herbal oils just before we shower. The oil and water emulsify together for a deep moisturizing experience. Any extra oiliness is rinsed away, leaving your body perfectly soft.